WASHINGTON — The now vintage photo of Maj. General Sherrie L. McCandless standing next to her F-16 fighter jet evokes both a scene from Top Gun, and a sea change in the military.
McCandless earned her wings during the dawn of a new era for the Air Force – the end of women being excluded from flying combat aircraft in the '90s, and the beginning of expanding possibilities for women in uniform. No longer was McCandless training in the backseat of a cockpit, but was ascending to new leadership roles in South Korea, Arizona, and South Carolina.
She remembers the pilots who guided her, who said the days of female combat exclusion were numbered. They turned around to speak to her from the front seat, and said McCandless could help usher in a new chapter for the military.
"They encouraged me, and they said, 'hey, someday it'll change,'" McCandless said. "They have daughters. And I think was an awakening moment for them to think, 'wow, my daughter could be completely able to do this, from a physical and a mental standpoint, but won't be able to for one reason.'"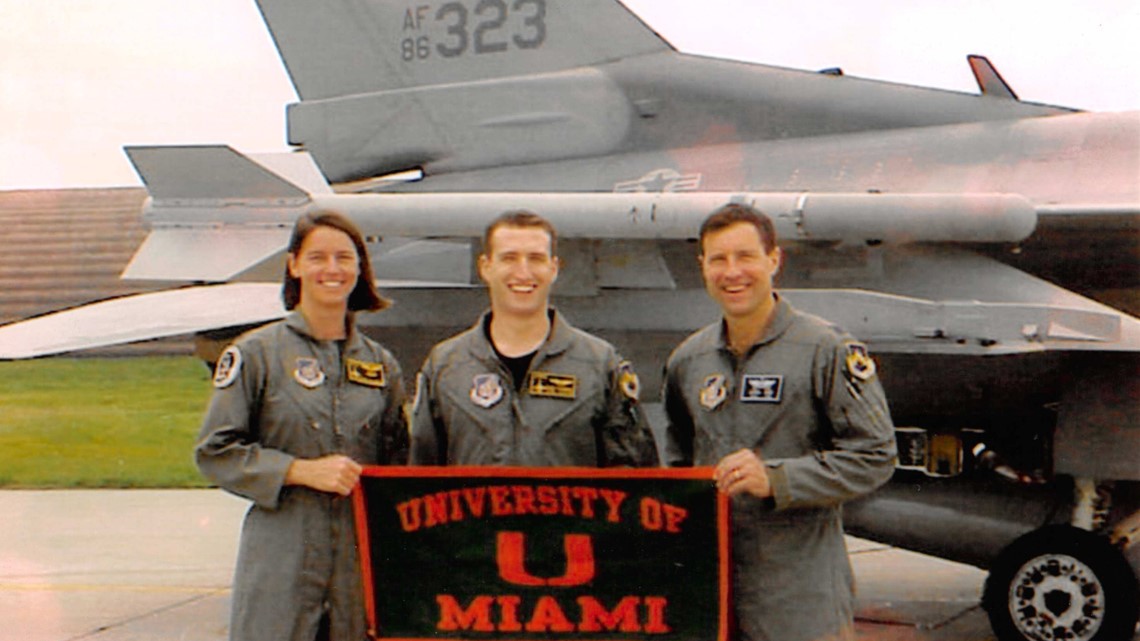 McCandless, 51, now finds herself in another moment of U.S. military history – serving as the first female leader of the D.C National Guard.
Beginning April 25, 2021, McCandless oversaw the end of the D.C. Guard's security mission at the Capitol, at a time when the Guard's role in Washington was redefined, and may still change in the months ahead.
She serves as the D.C. Guard's interim commanding general, appointed to the role after her predecessor, Maj. Gen. William Walker, became the new Sergeant-at-Arms for the U.S. House of Representatives. Her fate now lies with President Joe Biden, who is expected to decide over the next few months if McCandless will fill the position permanently.
In her first interview since assuming the role, McCandless said the 2,700 soldiers and airmen under her command would not be put under immense strain if Congress decides to create a "strike force" of Guard members assisting U.S. Capitol Police. She affirmed one of her top priorities is to improve the speed and efficiency of communication with federal and District law enforcement, should another episode of insurrection threaten the heart of American democracy.
Yet her concerns are also focused on new outreach to the people of the District, expanding a program to instill leadership in teenagers who've dropped out of high school.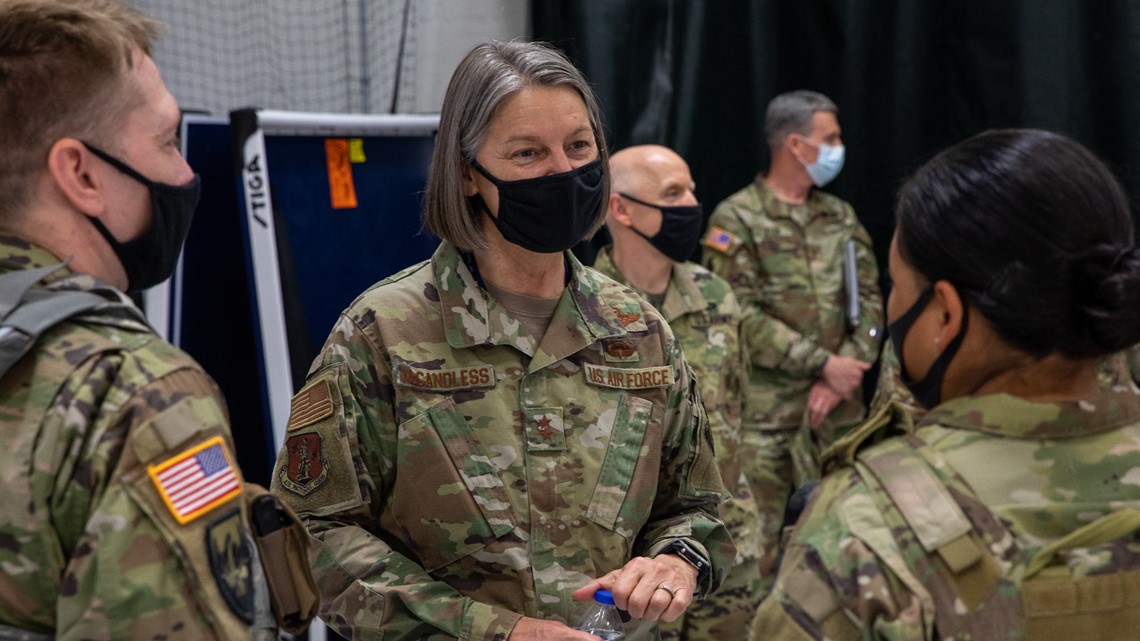 McCandless said she is also mindful of allowing Guard members adequate time to reconnect with families, following months of unprecedented service.
"We just have to make sure that we're constantly looking at evaluating balancing," McCandless said. "It's a constant evolution. We can never let rest on where we are."
A Possible U.S. Capitol Strike Force
Within a $1.9 billion Capitol security bill, passed by one vote in the House, Democratic lawmakers authored the creation of a quick-reacting force of National Guard members on U.S. Capitol grounds. The aim of the force would be to assist Capitol Police, should a scenario similar to the January 6 insurrection repeat once more.
Republican lawmakers oppose the measure, with Sen. Jim Inhofe (R-Okla.) and Rep. Mike Rogers (R-Ala.) writing in a joint statement, "use of the uniformed military in D.C. and the Capitol Complex is subject to complex statutory restrictions, and for good reason."
"We cannot and should not militarize the security of the Capitol Complex."
While McCandless and the Guard take no position on the matter, leaving the decision to civilian lawmakers, the general said such a force would not strain the Guard's command structure, or its personnel.
"I think that the planning would need to take place, but I don't see any major changes required," McCandless said.
When asked if major shifts would be required to make such a force work, McCandless replied, "Not in my opinion."
McCandless stressed the D.C. Guard serves as a force of last resort, after law enforcement exhausted all its resources. Yet she affirmed under her command, the Guard would respond to a potential Capitol crisis with greater speed than what was seen in January.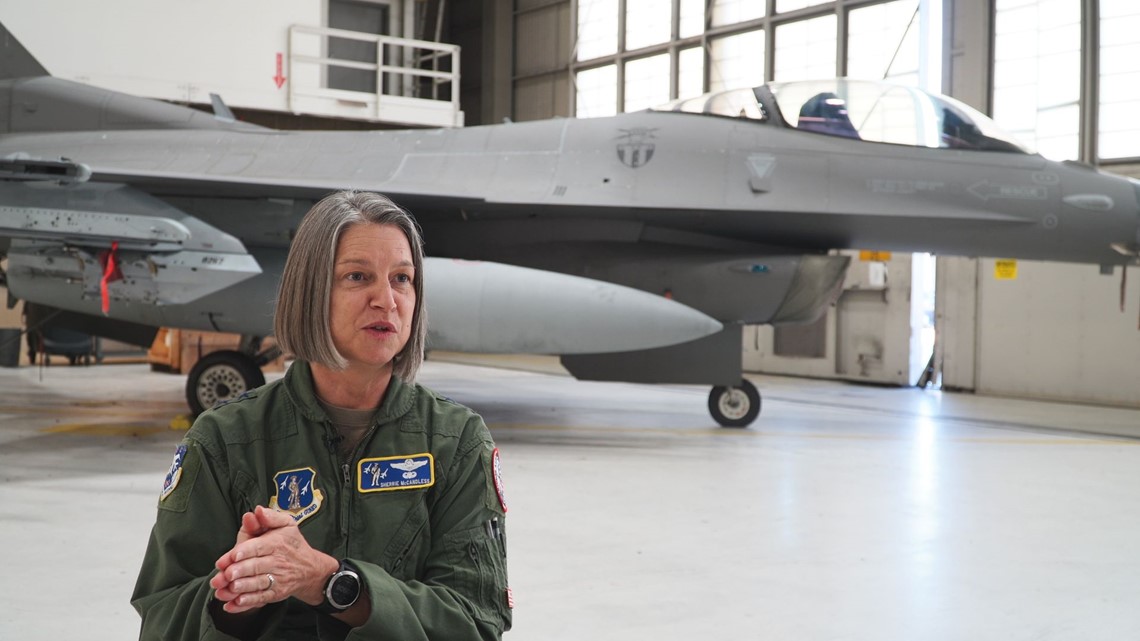 "I'm on my 60th day [leading the D.C. Guard,]" McCandless said. "And I've spent a lot of those days connecting with my downtown partners. So, U.S. Capitol Police chief, U.S. Park Police chief, the mayor's office. I'm making sure that we are communicating, we know who each other are, and kind of where the National Guard in D.C. is at this time."
"I've been able to participate with some of our team at the Defense Department also, who has obviously been looking into and interested in those response times," she continued. "There's a great amount of learning and collaboration going on at this time to ensure that if and when we have our federal or District partners that require our assistance or the assistance of the National Guard, that we're in a better place."
Reaching out to the D.C. Community
McCandless is the granddaughter of an Iwo Jima Marine Corps veteran, who landed 45 minutes into the first wave of U.S. troops on the island. PFC Theodore Below helped raised McCandless, and instilled within the future D.C. Guard commander a sense of service which persists into the present.
"He actually still lives with me in my home in Washington, D.C.," McCandless said. "The foundation he built for me always provided a very clear sight picture for me about the criticality of service."
The arc of service could be seen in a hangar at Joint Base Andrews, when McCandless joined more than 30 D.C. teenagers for an up-close look at F-16 fighters.
The adolescents recently dropped out of high school, but are now back on the path to a diploma. They are enrolled in the D.C. Guard program, known as the "Capital Guardian Youth ChalleNGe Academy."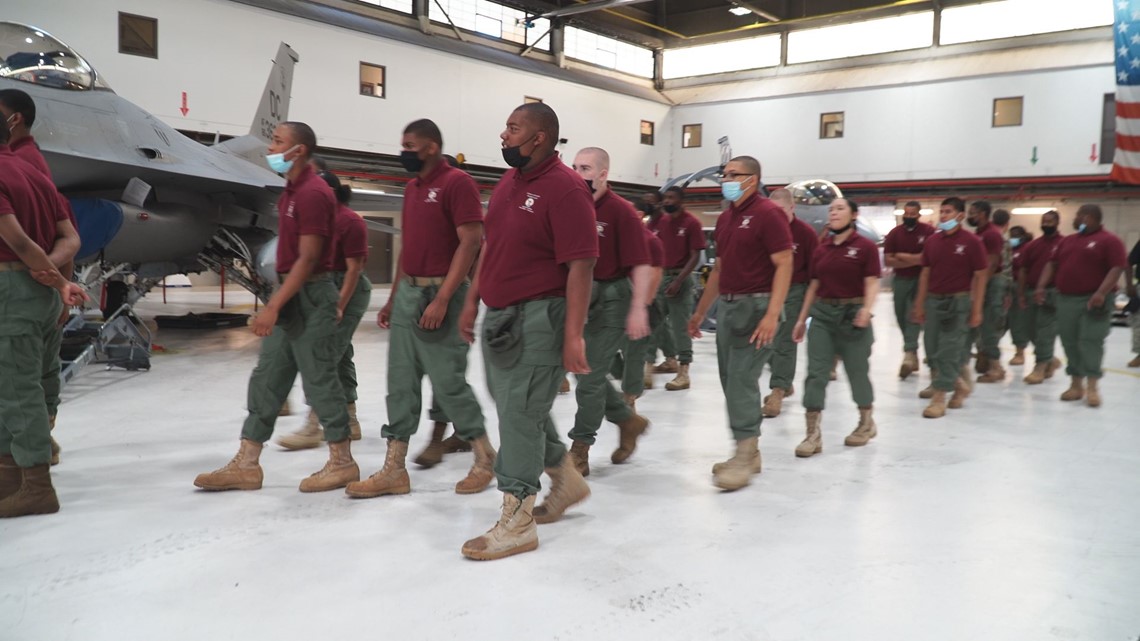 "In that 16 to 18-year-old range, as we all know, there are a lot of distractions and there's a lot of competing priorities in their lives," McCandless said. "And I think what we're able to offer to them is a safe environment to go into, inspired by the military, but having no outcome to join the military."
McCandless described the program neither as bootcamp, nor ROTC, but as a five-month full-time living experience on a D.C. Guard suburban campus in Laurel, Md.
"It allows them to re-engage in physical fitness activities, understanding how to balance a checkbook, understanding the criticality of their diet and how that feeds them and they basically learn skills that we think that will help them complete their education, join the workforce, and then come back into the D.C. community," she said.
Online applications for the fall 2021 program are now open, with McCandless setting a goal to expand the academy's enrollment and recognition as a force for change. Cadets are under no obligation to join the Guard upon completion of the program.
D.C. Guard Moving Forward
"We have an F-16 mission that's getting ready to depart for the Middle East, and we also have National Guardsmen that have departed to go down to Guantánamo," the general offered, describing ongoing operations after the U.S. Capitol mission. "We're always constantly making sure we're prepared for the overseas war fight – that's the core mission of what we do. But we also have to maintain and train our readiness as almost a byproduct of that federal mission, to respond to natural disasters and manmade disasters inside the United States."
McCandless described as the D.C. Guard moves forward, post-insurrection, her mission is to help its airmen and soldiers reconnect – first with their families, then with their civilian jobs balanced alongside National Guard duties.
"Simultaneously, the country is coming out of the pandemic. So there's the desire for guardsmen to get out, socialize again," she said.
"We're also going to start working again on some of the basic military skills that they did not have the opportunity to train on while they were doing the Capitol mission."
At an expansive moment for the Guard in the public consciousness, McCandless said she feels prepared to meet the expectations of the city and the nation. Once as a pilot in her 20's who helped shape the face of the U.S. military, she now says she turns to the needs of the Guard in the nation's capital, a new arena to engage in a commanding change.
"It's really about the competency of the individuals and how they've been prepared through their lives to ascend to these roles," McCandless said. "I've been trying to prepare myself all along for roles that the military may ask me to perform… And I'm excited that it's now with the Guard where I call home."