AUSTIN, Texas — If you've found yourself north of University of Texas campus on The Drag, you have probably spotted the dinosaur that menacingly sits on top of the Wheatsville Co-op grocery store.
He's hard to miss. He's bright – almost neon – green. His eyes shine bright red and his tongue is wrapped around his top lip as though he is in the middle of licking his chops.
He's Mangiasaurus. Mangiasaurus Rex, to be exact. And while the Guadalupe Street store said the giant green statue is there to stay, his future wasn't always that certain.
Here's the iconic monster's bizarre story.
An Austin artist by the name of Dale Whistler was asked to create the mascot for Mangia, a pizza joint that, at some point, had multiple locations around town. These days, Mangia has one Burnet Road location.
Mangia's creator first asked Whistler to "create a pizza delivery truck that looked like a cousin of the famous Godzilla," Whistler said.
Whistler was then commissioned to build "a giant monster" for the Mangia location by Amy's on Guadalupe Street.
Mangiasaurus later became the center of a school prank. An Austin Chronicle article reported that McCallum High School students whisked the creature to their campus in 1999.
Mangia's sales director theorized that some kids tried to recreate the prank sometime in 2004, the Chronicle reports. As the pranksters tried to move the dinosaur, he was dropped. The poor creature suffered severe injuries in the fall.
John Maisano/Texas Vertebrate Paleontology
In an odd but perfectly appropriate turn of events, that's when the paleontology department at UT-Austin stepped up to help restore the broken dinosaur.
"So apparently two drunk gentlemen decided to climb up on the roof and cut the wires that held the Mangisaur (up) and then pushed it off the building, destroying its head and a few other body parts. Our educator at the time thought it would be a cool opportunity to help the community so I stepped up to restore it," said John Maisano, the head of exhibits at the Jackson School of Geosciences at UT. "Being a sculptor, I knew the products to use and carefully rebuilt the head and face as well as the arm and tail then repainted the whole beast."
UT paleontology department repairs dinosaur mascot destroyed in prank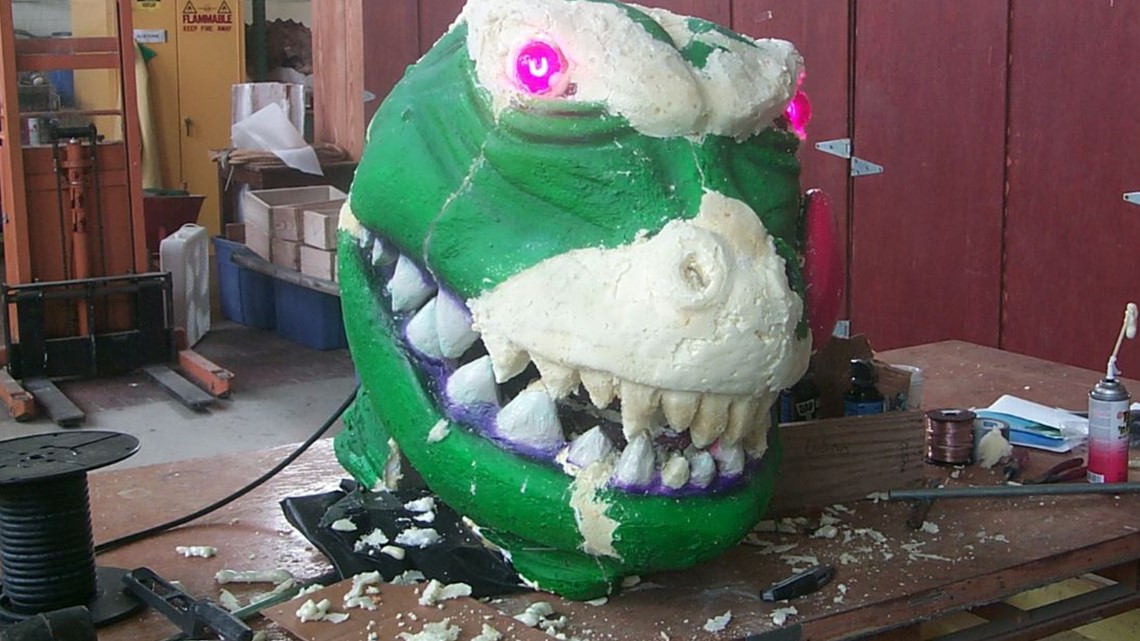 "It was restored at the Vertebrate Paleontology Lab which seemed very appropriate," Maisano said.
At the time, KVUE paid a visit to the paleontology lab to see their work.
John Maisano/Texas Vertebrate Paleontology
When Maisano finished his work in October 2004, Mangiasaurus was strapped into a full-body harness and lifted up via crane onto the roof of Mangia.
John Maisano/Texas Vertebrate Paleontology
Austin's then-Mayor Will Wynn made an appearance at the installation and declared Oct. 25, 2004, Mangiasaurus Day. The Austin Chronicle reported State Rep. Elliott Naishtat gave a speech to mark Mangiasaurus' rebirth, and the McCallum High School band performed, perhaps as an apology to the beloved monster for the 1999 kidnapping.
John Maisano/Texas Vertebrate Paleontology
Years later, Mangia was in the process of moving their Guadalupe location down the street, right across from the Wheatsville Co-op grocery store.
Mangia's owners couldn't find a spot for their mascot on the roof of the new location, so Wheatsville offered to take him in.
Wheatsville adopts Mangia mascot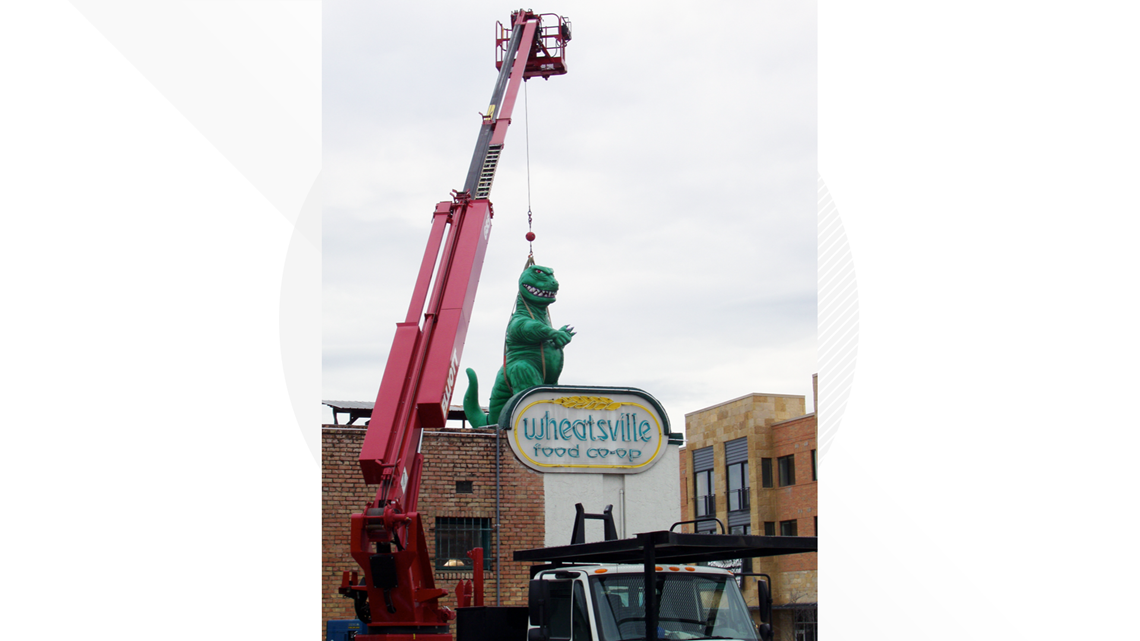 But, trouble struck Mangiasaurus again.
Perched on top of the Wheatsville store, the dinosaur violated the city's signage ordinances, according to the Austin Chronicle.
"The city ordinance group got involved and said, basically, 'No, Mangiasaurus couldn't go up' (at the Wheatsville store)," said Dana Tomlin, Wheatsville's fresh manager.
Mayor Wynn would not stand for this.
In October 2007 at an Austin City Council meeting, Wynn placed a plastic dinosaur on the dais in "protest" of the signage ordinances which threatened Mangiasaurus.
WATCH: How Mangia's 'Mangiasaurus' dinosaur landed on Wheatsville in Austin
The Austin Chronicle summarized the mayor's reasoning, saying "if it was Rex today, it was the enormous papier-mache Peter Pan on South Lamar tomorrow, and he just wasn't going to stand for it."
Wheatsville's Tomlin recalled that Wynn was adamant.
"He said, 'It's not a sign. It's a dinosaur,'" Tomlin said.
Wynn eventually got his way, and to this day, Mangiasaurus stands green and proud on top of Wheatsville. Now, Mangiasaurus serves as a quirky backdrop along Guadalupe Street.
"We've been around since 1976," Tomlin said. "And it's just a part of us keeping Austin weird, honestly."
As far as Wheatsville is concerned, Mangiasaurus is there to stay.
"I cannot imagine Mangiasaurus going away," Tomlin said. "I think it was cool that we were able to keep an icon of another business, and I think it really just showed how much we think of ourselves as a community grocery store."
PEOPLE ARE ALSO READING:
City crews expected to clean up 'eyesore' homeless camp at South Austin park this week
Austin resident wins $1M scratch-off, Texas Lottery says
Round Rock toddler hit and killed by car near soccer field
Judge gives the OK to rename South Austin's Manchaca Road to Menchaca
17 charged in federal indictment alleging drug trafficking in Austin