AUSTIN — AUSTIN -- Street art evangelist Mike Johnston honored 17-year-old bombing victim Draylen Mason with a mural.
The mural sits on the side of an electrical box at the intersection of Webberville and Pleasant Valley Road in East Austin. It's shows Mason playing the bass.
Draylen was tragically killed when a package exploded at his home on March 12.
Johnston said as soon as he heard of Draylen's story, he knew he had to do something.
"I normally do street art pieces and murals dedicated to different heroes growing up, like Michael Jordan or Mr. T," said Johnston. "I never knew Draylen, but just from reading his story he was someone I could really see myself just being inspired by."
He set to find a place to honor the 17-year-old. He said he decided to put the piece in East Austin, near where Draylen used to attend church, so those who knew him could still see him.
"When they see this, they'll know that he's not forgotten, that his life was not lived in vain, that he's still touching many people's lives," said Johnston.
Johnston shared his masterpiece on his Instagram account with a quote by Darren Bouyer as the caption. The quote read, "God's heavenly orchestra needed another bassist, so he plucked the best one we had."
The Instagram picture was posted Wednesday and has already reached over 1,000 likes and several comments by Thursday evening.
He said he's been overwhelmed with the response. He said he's even heard from Draylen's mom, who said he captured her son very well.
"It just really really humbled me to know what she's going through and for her to reach out," said Johnston.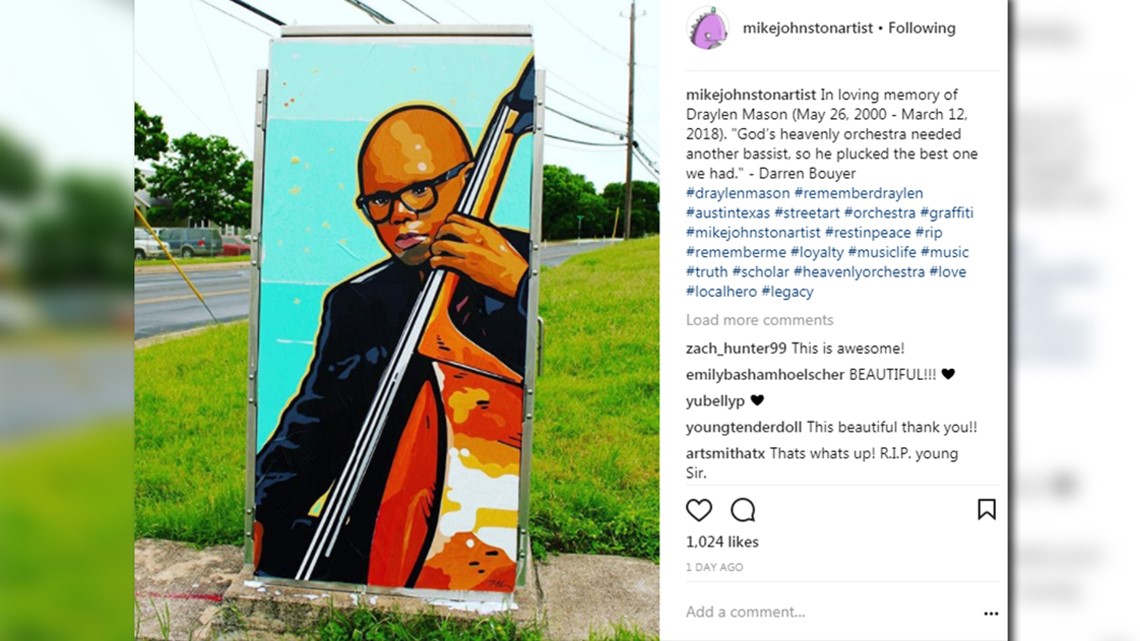 The painting has also gained the attention from those near and far.
One of Johnston's followers commented, "I saw this on the way to work today. It's so beautiful. I was wondering who the artist was. Well done. I saw Draylen play at an event last year. Amazing talent, such a loss."
"I took [a] photo and I want it to carry on," said Lawrence Smith, visiting from Nashville. "I'm going to put it on Instagram and let people know that I visited in the area [Draylen] lived in. Whoever the artist was did a great job."