LOS ANGELES — As wildfires ravage the state of California, actor and famous Austin resident Matthew McConaughey is lending a helping hand to firefighters on the ground.
McConaughey teamed up with Wild Turkey master distiller Eddie Russell and a group of volunteers from organization Operation BBQ Relief to help make and deliver meals to firefighters in the Los Angeles area.
Around seven fires are burning throughout California, with a new fire in Ventura County on Friday causing damage to more than 8,000 acres and prompting 7,500 people to evacuate.
McConaughey, creative director for Wild Turkey, worked with volunteers to help deliver 800 turkey dinners to more than 20 fire stations around Southern California. Around 800 more dinners were delivered to local homeless shelters.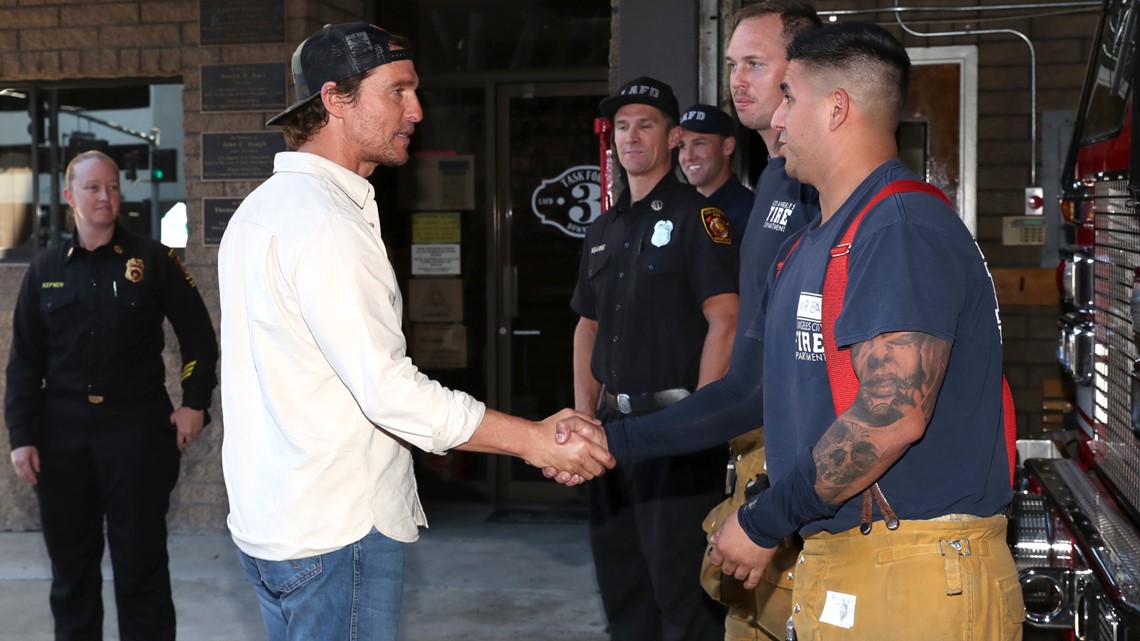 McConaughey made several appearances on Friday, showing his support for firefighters battling the massive fires and hearing stories from the brave men and women returning from the front lines.
LAFD Central wrote on Instagram on Saturday, "Huge thank you to Operation BBQ Relief and #matthewmcconaughey for donating trays of delicious BBQ to our crews around the city."
Wild Turkey will be partnering with charitable organizations throughout the months of November and December to give back to first responders nationwide.
"Little did we know when planning this annual event that California, my second home, would once again be hit with devastating fires," McConaughey said in a statement. "Being able to provide meals to the men and women who put themselves on the line is an honor for me, Jimmy and Eddie Russell. We are grateful to be here today to say thank you, shine a light on their unwavering conviction, and hopefully inspire others to get involved and help in their own communities."