AUSTIN, Texas — Austin City Limits brings thousands of people together every year, but that also means more traffic. Here are some roads you should avoid, courtesy of ACL.
The first weekend of ACL will be from Oct. 4-6 and the second weekend will be from Oct. 11-13.
The following roads will be closed the nights of Weekend 1 and Weekend 2 between the hours of 9 p.m. and 12 a.m.:
Barton Springs Road (between South Lamar & Sterzing Street)
Sterzing (between Barton Springs Road & Toomey Road)
Toomey Road (between Sterzing Street and South Lamar)
According to the City of Austin, Stratford Drive and Barton Springs Road from Sterzing to MoPac will be fully closed both weekends Thursday at 9 p.m. through Monday at 6 a.m.
Eastbound residential traffic will also be prohibited on the Fridays of the festival from 12 p.m. to 12 a.m. and Saturday and Sunday from 8 a.m. to 12 a.m. This is between Barton Springs Road and Azie Morton Road. Roads will reopen Oct. 7-10.
The City of Austin provided this map on road closures: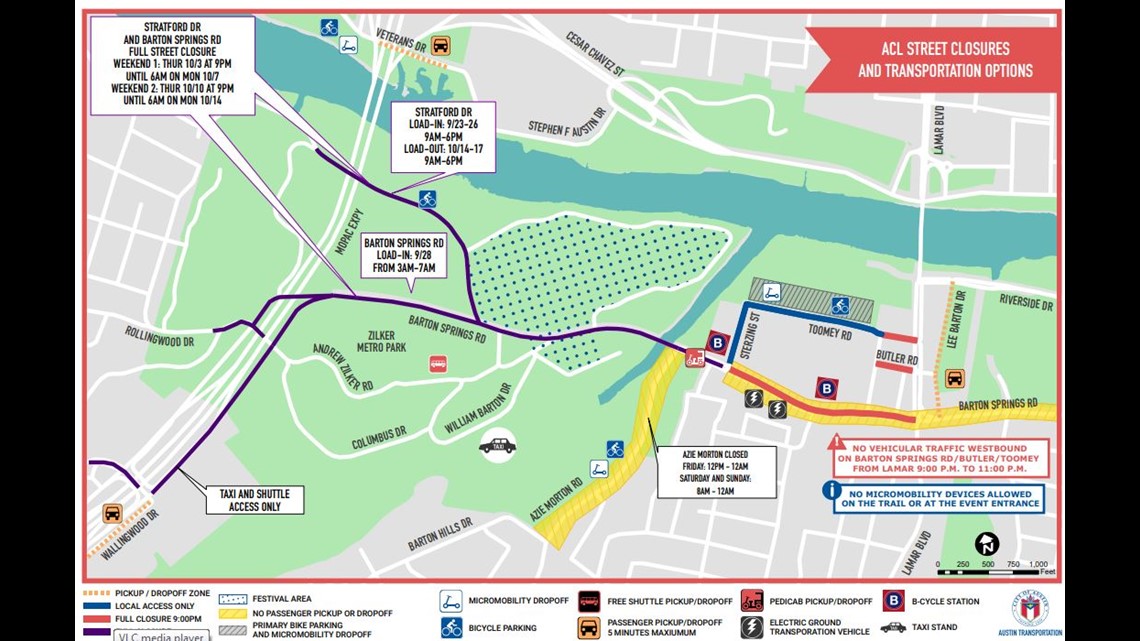 If you don't have your tickets yet, we got you. By subscribing to the KVUE newsletter, you could have a chance to win a pair of Weekend 2 passes!