APD Sgt. Noel Guerin said that it is hard to tell what is truly stolen and what is lost, as a patron may think it is one verdict when it is actually the other.
Guerin said that the number of phones reported stolen and or lost has gone down significantly from the estimate of 120 from last year, but police are still receiving new reports.
"While most people come to these events and festivals to listen to music, have a couple drinks, relax and have fun, some people have made it their business to attend these festivals simply for doing nothing more than stealing stuff," Guerin said.
KVUE talked to several victims on Monday.
Ruth Heinze has been a festival-goer for years. Her 16-year-old son had his cell phone stolen the last two years.
"In those tight crowds, it's very easy for the thieves to get in and get out quickly," Heinze said. "Within minutes, his phone was taken from behind him. He turned around, he felt the phone being taken, he turned around and the thief just disappeared into the tight crowd."
The tight crowds made it difficult for APD to detect any criminal activity.
"In the middle of a crowd, we can't stop somebody from doing something or even see it. So it's just the sheer number of people and the sheer volume of people in a confined space," Guerin said.
He also mentioned that APD and ACL have partnered with Crowdfind to help people find their lost belongings.
It is also encouraged that festival-goers be more vigilant of their spatial awareness and where they are placing their valuables.
"People just have no concept of their personal space. I saw phones sticking out of back pockets, I saw phones sticking out of bras," Guerin said.
Marni Francell told us her daughter's backpack was reportedly cut open in order for someone to steal her phone, but APD said it did not receive any similar reports and an incident like this is rare.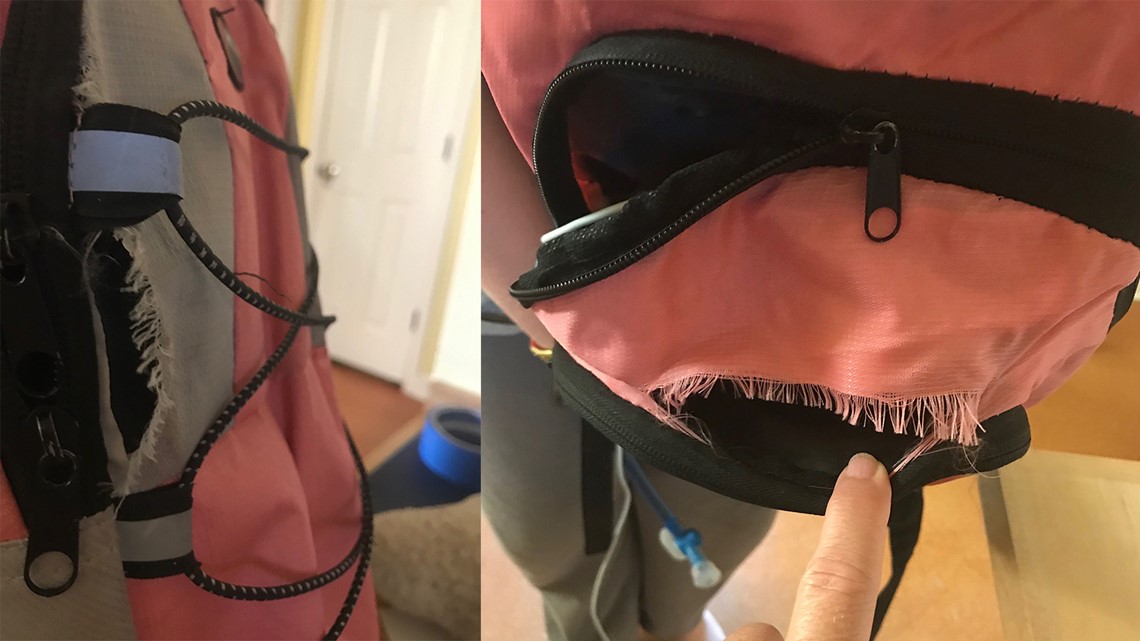 Abigail Williamson and Kinley Janik both said they were wearing fanny packs on the front of their bodies with their phones zipped inside. When they looked down, the bags were unzipped and their phones were gone.
"It's just one of those things that you don't think is going to happen to you until it does," Janik said. "At the end of the day, it's a thing, and it's really unfortunate and it sucks but you can replace it."
Tech company ALTR, who monitors data and how it is accessed and securely stored, provided suggestions to ensure digital safety.
ALTR encourages those who have had their phones stolen to check if "Find My iPhone" or "Find My Device" for Android phones is on and working and, if so, to lock or erase the phones as well as track them.
If the phone stolen was a work-related phone, the company's IT staff might be able to see if a mobile device manager was installed.
The company also told KVUE that to prevent the threat of data loss, it is also wise to backup phones regularly.
More tips straight from ALTR include:
The bigger the phone, the more it sticks out of your pocket. Especially in the back pockets! Keep the phone in your hands or in a more secure place
0000 is not a passcode! Pick the maximum length passcode and make it hard or a challenging swipe pattern. This will only benefit you in the end.
Do not keep information like credit cards or passwords in Notes or Reminders. Use the built-in or third-party password managers like LastPass or Keychain for iPhone
If your phone is stolen, act quickly! Using another phone, log into iCloud or Android manager and try to track or lock the phone. Putting the phone in lost mode will allow people who find it to call you without needing a passcode.
If you lost anything at the festival, lost-and-found items are posted online here.