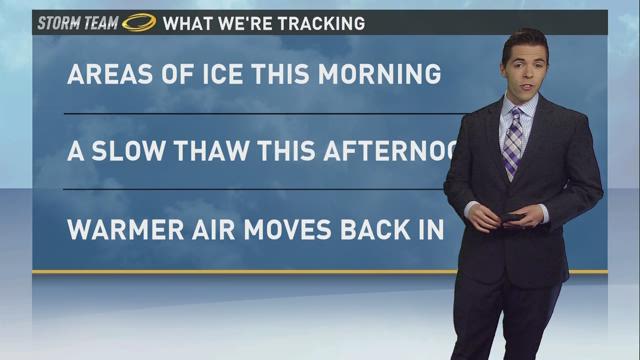 WEATHER OUTLOOK:
We are slowly thawing out as temperatures are beginning to rise above freezing in the Metro area. However, still use extreme caution driving because it does take time for ice to melt. Patches of ice will linger a bit longer in the Hill Country as the colder air will stick around until the late afternoon.
Temperatures will remain above freezing this afternoon and tonight. Therefore, the threat for ice will be over.
Showers continue through Sunday and into the first half of next week. Plus, a big warm up is in store with 60s and 70s coming back.
SATURDAY'S FORECAST:
Cloudy and cold with patchy light accumulations of ice with freezing drizzle during the morning morning. A northeast wind around 5 mph.
HIGH: 45°
SATURDAY NIGHT'S FORECAST:
Spotty light rain showers. Temperatures remain steady. A light northeast wind around 5 mph.
LOW: 43°
Read or Share this story: http://kvue.tv/1mdm0G6