Tracking the paranormal in Austin None
AUSTIN - Austin is known for its weird side thanks to many of the things that appear around town. But Austin and the surrounding area isn't just weird; there's a secret side of the area that few know about.
In celebration of the creepiest holiday of the year, KVUE Defender Dalton Huey and KVUE.com's Kirby Killough met up with the Austin Paranormal Investigations team to take a look at some of central Texas' reported haunted locations.
INTRODUCTIONS AND EQUIPMENT
For our first investigation, we met up with Austin Paranormal Investigation Team Manager and Senior Investigator Bill Pappin and Investigators Debbie Weber and Sandra Lopez. First things first, the team familiarized us with their equipment (which is impressive):
Custom-made Camera Rig: This bad boy has three GoPro cameras that Bill personally modified. They film in panoramic fashion. Surrounding them is a full spectrum illuminator, which shines infrared, ultraviolet and standard lighting.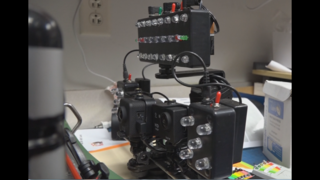 InfraRed Camera: Custom-designed handheld cameras with infrared beams that can shine over 50 yards. Sandra and Debbie carry these.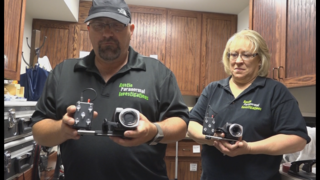 Custom Room Illuminator: This is mounted on a tripod and can illuminate an entire room with infrared light.
Ghost Cam: This camera stays stationary on a tripod. It is connected to software on Bill's laptop and can detect fractal, biophysical and thermal movements. Basically, this camera can see changes in the room that we can't see.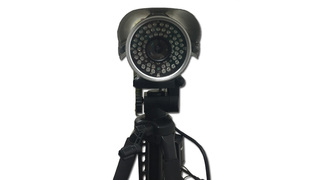 K2 Meter: This is a handheld meter that scans for electromagnetic fields, which any paranormal investigator will tell you usually indicates a paranormal presence.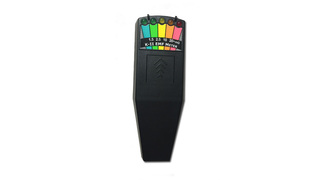 Digital Recorder: Everybody carries a digital audio recorder, so if there are any bumps, whispers or anything else, you'll have it recorded. These are also crucial for picking up EVPs, or Electronic Voice Phenomenon.
Flashlight: All of the lights are off during an investigation, so you're going to need a flashlight. Our flashlights could switch between red light, which is preferred, blue light, green light and regular light (in case you get scared).
After we are all familiar with the equipment, it's time for the first investigation.
WILLIAMSON MUSEUM
Our first investigation was at the Williamson Museum, which is located in an old building in downtown Georgetown, TX. The museum is home to exhibits like 'Schools of Williamson County' and 'Civil War Stories of Williamson County,' so it houses a lot of history.
Bill estimates that the museum is home to about six spirits. The most popular ghostly resident is 'The Lady in White.'
"We have different things where people have seen ghosts or seen a Lady in White by the hallway. We have things come off the walls and end up in a completely different room," said Danelle Houck, Educational Programs Coordinator at the Williamson Museum.
Another well-known resident of the museum is Emilio. Danelle said she gets phone calls from someone looking for Emilio up to four times per day, but nobody who works at the museum is named Emilio.
"It's personal phone calls, calls from jail, house calls, everything under the sun," Danelle said.
Some renovations were performed on the building not too long ago, which Bill thinks may have stirred up some of the recent activity they've seen there.
"Every time we come to this museum we have a lot of activity, usually in the way of EVPs," Bill said.
We set up the Ghost Cam in "the vault," which is a narrow room full of shelves holding items that aren't currently on display. The Vault is also where the Lady in White is often seen.
After The Vault was completely dark and blocked off, Danelle turned off the museum's lights and the investigation was underway.
It probably comes as no surprise that being in a museum at night with all of the lights turned off is just plain creepy, whether the place is haunted or not. But after hearing about all of the sightings and weird activity that have happened at the Williamson Museum, I have to say it was pretty unsettling in the dark.
The first thing we did was an EVP session. Everybody turns their digital recorders on, and then we introduce ourselves.
"We like to let everybody know who they're talking to," Bill said. He tells us this is also a good way to get everyone's voices on the recordings, so there's no confusion when reviewing the audio later on.
The silence you feel while talking to the spirits is heavy. It wasn't just quiet, it was too quiet. It wasn't just dark, it was too dark.
For a few hours, we asked questions to people we couldn't see. Bill said this is a big part of paranormal investigation.
"Lots of long hours sitting in the dark, talking to the wall, to go in behind the fact when you're reviewing evidence to get what you need."
Lots of silence. Lots of nervous waiting. And in the end, the evidence is subtle.
Here's a look at some of the anomalies captured by the Ghost Cam:
The Williamson Museum gave us a creepy and educational introduction to paranormal investigation. We got to put our skills to the test a couple nights later.
JOURDAN-BACHMAN PIONEER FARMS
The Jourdan-Bachman Pioneer Farms is home to several historic buildings that have been relocated from all over Cenral Texas to the more than 90-acre farm.
Heavily wooded trails lead visitors through the woods between each building and exhibit.
The farm is absolutely beautiful during the day. But at night, the trails are dark and the woods are creepy. Volunteers who work at the farm all have stories about the spirits they've seen there.
The first house we visited was the Bell House, built around 1859 in Round Rock by James Hall Bell, who was an associate justice of the Texas Supreme Court. The house was relocated to Pioneer Farms in the 1990s and has been refurbished right down to its original colors. The antique furnishings make it feel as though you have stepped into the 1850s. At night, this feeling is a bit unsettling.
Check out these 360 pictures (taken during the daytime) some rooms inside the Bell House:
Post from RICOH THETA. - Spherical Image - RICOH THETA
Post from RICOH THETA. - Spherical Image - RICOH THETA
The next place we visited was a Tonkawa encampment that was used around 1841. Teepees have been recreated near the tree line to give an idea of what the campsite originally may have looked like, but one original element remains; a giant oak tree that looms over the campsite. Volunteers estimate that the tree is nearly 600 years old.
Several different visitors to the farms have reported seeing a little girl playing in the tree.
"A visitor said we need to get that little girl out of the tree before she falls and hurts herself," one volunteer said with a laugh. "She's always in that tree."
The same little girl has been seeing curled up napping underneath the tree or crawling into a teepee.
Further down the trail was the German farm, originally built in 1867 near Yager Lane and Dessau Road by Frederic Krueger (also known as Freddy Krueger...?). One of the scariest things about the history of this house is that the Krueger family raised thirteen children here. Thirteen kids under this roof!
No matter how quiet we tried to be, there were constant creaks throughout the tiny house. Maybe it was someone shifting their weight, or maybe it was something else, but it was hard to shake the feeling that there was something else in that house with us.
CONCLUSION
In the end, the evidence is subtle. What you end up with isn't like a scene from the movie Paranormal Activity. Bill told us that "if it can't be explained by scientific means, then it must be paranormal."
From what I gathered, the most important thing about paranormal investigating is to remain open-minded. Be willing to sit in silence for a long time and watch the shadows in the tree line. Stand in an empty room with your eyes closed and just listen. Ask yourself if that chill on your back is from an air vent, or if it could be something else. Question everything, and if you can't explain it, then that might just be your evidence.