March 1 marks the start of meteorological spring, and the end of the winter that wasn't. The final numbers from both Camp Mabry in Central Austin and Austin-Bergstrom International Airport, show not only an above average February, but the warmest February on record at both official sites.
Since December 1 (the start of meteorological winter), both sites also recorded the warmest winter on record.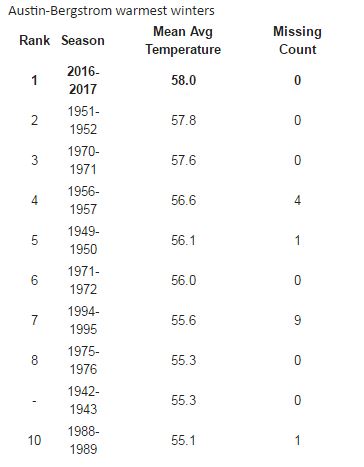 Data courtesy LCRA Meteorologist Bob Rose
While many observe the start of spring at the vernal equinox (March 20 this year), meteorologists observe it March 1 based on the annual temperature cycle as well as the calendar. Meteorological seasons are broken down like this in the Northern Hemisphere:
Spring – March, April and May;
Summer – June, July and August;
Fall – September, October and November;
Winter – November, December and January.
The term equinox is derived from Latin and defined by Merriam-Webster as "either of the two times each year (as about March 21 and September 23) when the sun crosses the equator and day and night are everywhere on earth of approximately equal length."
Although La Niña has faded away in the tropical Pacific Ocean, its effects will still be felt for a few months. La Niña typically means warmer than normal and drier than normal conditions along the Gulf Coast, while El Niño calls for above average rainfall. Because we had a weak La Niña this winter, we experienced the warmer than average impact, but not the below average rainfall. In fact, December, January, and February all recorded above average rainfall.
The Climate Prediction Center's three month outlook shows above average temperatures through at least May, and equal chances (or near average) rainfall in that same period.