AUSTIN -- After a 12-year search, Sabrina Allen has been found in Mexico with her mother.
According to federal investigators, FBI and U.S. Marshals officials found Sabrina and her mother, 44-year-old Dara Llorens, in a small town southeast of Mexico City.
Private investigator Philip Klein said in a statement on FindSabrina.org that Llorens was found and placed under surveillance for two weeks in Estafeta Tlaxcala.
PRESS RELEASE: Private investigator says Sabrina Allen was found
Klein said Llorens was taken into custody at 11:32 a.m. Tuesday, and she and her daughter were flown back to the U.S. on Tuesday night, arriving in Houston.
Llorens was booked into the Travis County Jail on Wednesday on aggravated kidnapping charges. Her bond is set at $300,000.
Klein said Sabrina, now 17, is undergoing medical evaluations at an undisclosed location.
Klein said one Mexican federal police officer sustained a minor injury during a struggle when Llorens was arrested. Klein said he is recovering and is in "good condition."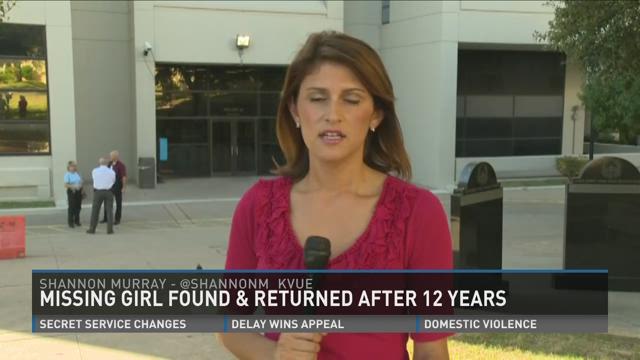 Sabrina has not yet been reunited with her father, but Greg Allen said he's been waiting 12 long years for the reunion.
"I'm going to ask her if I can give her a hug. She, uh, she's in pretty bad shape, is my understanding," said Allen, Sabrina's father. "I'd like to see her now."
Allen said Sabrina has been subjected to intense manipulation and parental alienation and is meeting with a therapist.
"I just want to know her," he said. "I remember who she was, and she's a completely different person now."
Federal investigators believe Llorens, her non-custodial mother, kidnapped the then-4-year-old girl and went to Mexico after a weekend visit with her daughter in 2002.
"Whether it's 12 years, one month or 20 years, we don't quit, and we don't stop," said FBI Special Agent Dan Powers.
Allen said while in Mexico, Sabrina didn't go to school and rarely left the small apartment where they lived.
"That's certainly no way for a child to live their life," Powers said. "Constantly on the run and never having the ability to live a happy and carefree life."
A confidential informant helped investigators break the case and lead them to the apartment an hour and a half south of Mexico City.
"I say this for Sabrina and I say this for all the other missing children is that we will not stop until all our resources are expended and we find the children that are missing," said Austin Police Assistant Chief Troy Gay.
For Allen, it's been a difficult 12 years with numerous trips to Mexico looking for his daughter. He's now remarried with young children at home in Austin.
"I learned to give myself permission to be happy about something, because, it's like, when you're in that place, the whole world is black, and you can't live that way for long," Allen.
Now he's ready to for a new beginning with his daughter.
"Sabrina, I've been looking for you. You don't know how hard. Please, please open up yourself to come home and give us a chance," Allen said.
On April 29, 2002 a warrant was issued for Llorens' arrest, charging her with Interference with Child Custody, according to the FBI. FBI officials said on May 10, 2002 a federal warrant was issued for Llorens charging her with Unlawful Flight to Avoid Prosecution.
Allen told KVUE in 2002 that Llorens had threatened to take Sabrina away before, "and she has carried through on her threats," he said. Allen said Llorens has mental health problems and he didn't believe Sabrina was safe with her.
EARLIER STORY: Greg Allen tells KVUE he won't rest until Sabrina is found