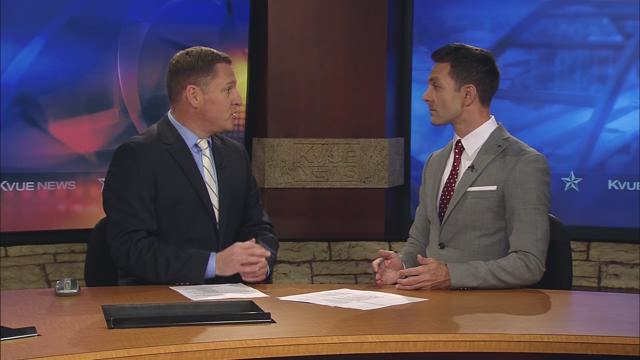 AUSTIN -- A KVUE Defenders investigation uncovered that the Austin City Council is waiving millions of dollars in fees related to the construction of the new medical school at the University of Texas.
Two council members who voted for the waiver have direct ties to the university, raising ethical concerns.
Until it opens in 2016, work on the new medical school will create a traffic nightmare. Roads around a three city block area lost one lane to accommodate construction. A portion of Red River Street is also closed.
Typically, the city would charge developers millions of dollars in fees for closing streets during a year-long construction project, but the KVUE Defenders uncovered the city gave UT a free pass.
With little discussion in March, City Council unanimously waived more than $3.5 million in road construction fees for UT's medical school.
The two council members with ties to UT include Bill Spelman and Laura Morrison. Spelman is a professor at university's LBJ School of Public Affairs. Morrison's husband is a physics professor at UT. Both voted for the waiver.
"They've got to have known that was going to look bad," contends Bill Aleshire, an attorney and former Travis County judge.
Aleshire argues Spelman and Morrison should not have voted for the waivers. "They've given their employer a fee break. And they've shifted the burden in coming up with those fees to everyone else. It doesn't seem right," said Aleshire.
Small business owners like Mark Evans, agree. Earlier this year, Austin Energy increased fees for some customers, doubling the electricity bill at his salon.
"I'm not asking for any handouts. I just want fairness," said explained Evans.
Last week, KVUE News asked Spellman and Morrison for a response.
"You can check back later in the afternoon with my office and we'll see," Morrison explained last week after a city budget workshop.
The KVUE Defenders did check back that day and the next day. Morrison's office never did return requests for an interview.
Spelman agreed, "I voted for the fee waiver because I thought it was a good idea. The medical school is going to be providing a lot of service to everybody in the city of Austin."
Spelman says the city attorney's office told him years ago it's not a conflict of interest to vote on matters related to UT -- just as long as his vote doesn't directly benefit UT's public affairs school, where Spelman teaches.
"This is not helping [me] out. This is helping out a different unit of a very, very large government agency," contends Spelman.
When KVUE News asked the city's attorney to confirm Spelman's claims, it provided a copy of the city's ordinance relating to conflicts of interest.
According to the ordinance, amended in 2011, "[A] city employee may not participate in a vote or decision affecting a substantial interest of a person to whom the official or employee is related in the first or second degree of consanguinity or affinity. This subsection does not apply to a substantial interest of a relative based on the relative's employment by a governmental body."
The KVUE Defenders also discovered the city has no policy regulating who gets a fee waiver and who doesn't. According to Spelman, making the decision is completely political.
Spelman now admits that may need to change. "I think that would be clearer to the public, and clearer to the development community as it is what we're considering and what it is we're not."
When asked if that is a policy he would consider initiating, Spelman replied, "It could be. Nobody has suggested that until you just now. So, it's not a bad idea."
Others concerned with the lack of policy include Bill Oakey, an accountant who runs the blog, Affordability Austin and Laura Pressley, running for City Council.
Count on KVUE to see whether Spelman does in fact an initiate policy recommendation to council in the coming weeks.